Who are we ?
Truffinade is composed by Nathalie, Lucky, Loona and Bill!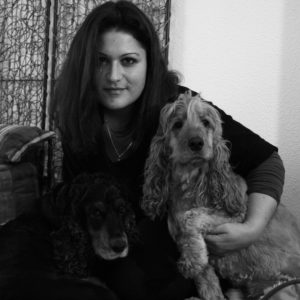 Nathalie, your canine educator : My role is to facilitate and improve the relationship you have with your dog. I want to give you the keys to a better communication together and thus, allow you to create the necessary harmony for your dog feels good in his paws!
Deciding to change your life requires courage and that's why Truffinade is my pride.

More than 20 years ago, I took the path of trade and communication world. The desire to spend my life with animals has remained all the time in my head. This wish, then unavowable, has become my reality
« Make your life a dream, and your dream a reality » wrote Antoine de Saint-Exupéry. While communicating, convincing, negotiating and signing contracts was my reality, it was very far from my dream. Improving the relationship between a dog and his human is my new goal!
Following my state diploma – BP Canine Educator – validated in 8 months, I created the SAS TRUFFINADE.
For me, success is when my clients contact me, thank me for telling me that their dog is and fells better and that it is thanks to my intervention. Honestly, tears come to my eyes. My life makes sense and my job is my life.
To accompany you and your dog will be a great pleasure …
My career hystory :
– BTS Communication in Business world – 2001 / Lycée Les Arcades
– Master II Manager of trade and marketing strategy – 2014 / IDRAC
– BP Educateur Canin – 2017 / Lycée de Cibeins
– Formation « Communication Animale » – 2017 / Com'Animale
And more details on my linkedin's page et more video here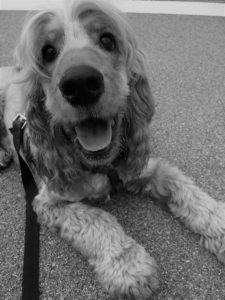 Lucky is an english spaniel cocker male, born in july 2015. He had a hard start of life with several stay in rescue shelters within the very first months of his life… Since his last adoption in april 2016, he's getting better and better. For instance, he has correctly passed to enter and make a succes during the school training programm BP Educateur Canin, promotion 2017 to the lycée of Cibeins.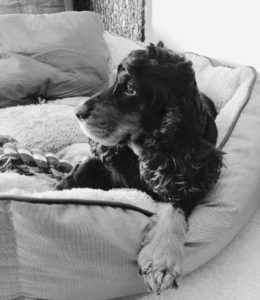 Loona, an english spaniel cocker female, born in april 2012, is a retired dog from breedind ; she gave birth to several and cute puppies ! Since a couple of months, she discovers the world and, especially, the one of dog education…and she is getting through it not so bad at all !!!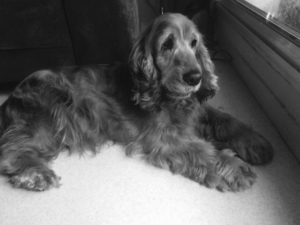 Bill is a 12 year old cocker spaniel who did not have a very happy life … He comes from Normandy and joined his new home at Truffinade not long ago! He is also unlikely to come to class … he has trouble walking, he is deaf and tired very quickly. He is still part of the Truffinade team !!!
See here TRUFFINADE's photos !
[ngg_images source= »galleries » container_ids= »1″ display_type= »photocrati-nextgen_basic_thumbnails » override_thumbnail_settings= »0″ thumbnail_width= »240″ thumbnail_height= »160″ thumbnail_crop= »1″ images_per_page= »20″ number_of_columns= »0″ ajax_pagination= »0″ show_all_in_lightbox= »0″ use_imagebrowser_effect= »0″ show_slideshow_link= »1″ slideshow_link_text= »[Montrer sous forme de diaporama] » order_by= »sortorder » order_direction= »ASC » returns= »included » maximum_entity_count= »500″]